Resources and Fun
Enjoy meaningful time with your family by reading inspiring spiritual stories from the children's library.  Download coloring sheets for your child's meditations and fun. Listen to archived webinars and podcasts that include profound teachings on accelerated learning, the Seventh Root Race as well as the spiritual life of the unborn and family matters.
*  Game *
Play the Flash 'N Find Game Now!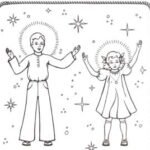 Download: Coloring Sheet-You Are a Child of the Light

*  Book  *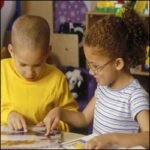 In this section we will offer stories for children about heroes, lessons to be learned in daily life, and other topics of interest. These stories are offered in PDF format so you can print them and read them to your child.
Our first story is the first four chapters of Warrior of Light:the Life of Nicholas Roerichby Colleen Messina.  It tells about the early years of a fascinating man from Russia who studied law and art, painted more than 7,000 paintings and traveled the world. Succeeding chapters will follow on this website in the weeks to come.


I WAS WONDERING …
Questions from children age four to eleven
with noted spiritual author, Elizabeth Clare Prophet
Q: What does heaven look like?
A: Heaven is a very beautiful place.
There isn't anything but beauty in heaven. So the way you get to heaven is you do lots of good works below and you're kind to others, you don't say things to people that hurt their feelings and you try to make other children happy, your parents happy. And pretty soon you'll be making the whole world happy.
Q: How do you know when some thing's right or wrong?
A: How you find if something's right or wrong is to be still and listen. You have to be listening to God. When you listen to God, he speaks to you. And then you can have a running conversa tion with God every day of your life. And if something is troubling you, God will tell you how to take care of it and he will help you.
Q: How do you tell when an angel's with you?
A: You can tell an angel is with you when you feel the love of God around you, a very special love. You also know when an angel is there when there is a warning from an angel, who comes and tells you that maybe something or some one near you may try to do you harm. So you quickly call to Archangel Michael and tell him that you would like him to surround you so no harm comes to you or your family. It's very important that we call upon the angels and the archangels.
Questions and answers originally published in "Heart to Heart," Sep. 1998, Vol.1, No. 8.